Los usuarios de PC pueden pasárselo en grande gracias a Microsoft, pues su Xbox Game Pass va más allá de las consolas Xbox para presentarse en el ecosistema de ordenadores con PC Game Pass. Aquí encontramos cientos de juegos disponibles para quien prefiera disfrutar de las aventuras digitales en esta plataforma, motivo por el que se ha convertido en un servicio muy a tener en cuenta por los jugadores.
Porque ya os contamos que Xbox Game Pass consta de más de 450 juegos en su haber, y los de Redmond no han dudado en llevar estas características a su PC Game Pass con la posibilidad de acceder prácticamente a la totalidad de esta gran selección. No obstante, hay unas pocas entregas que varían de una lista a otra, así que vemos conveniente redactar este artículo para hacer un seguimiento de todos los títulos disponibles en esta plataforma destinada a ordenadores.
Juegos de PC Game Pass en septiembre
¿Buscas nuevas aventuras para vivir desde tu ordenador? Entonces ten en cuenta que Microsoft ya ha anunciado los juegos que llegarán a PC Game Pass durante los últimos días de septiembre. Al tratarse de un servicio que renueva su catálogo de forma bimensual, iremos actualizando este artículo a medida que se produzcan cambios en la plataforma.
Novedades de septiembre en PC Game Pass (segunda quincena)
Juegos que abandonan PC Game Pass el 30 de septiembre
Beacon Pines (Nube, Consolas y PC)
Despot's Game (Nube, Consolas y PC)
Last Call BBS (PC)
Moonscars (Nube, Consolas y PC)
Outriders (Nube, Consolas y PC)
Prodeus (Nube, Consolas y PC)
Weird West (Nube, Consolas y PC)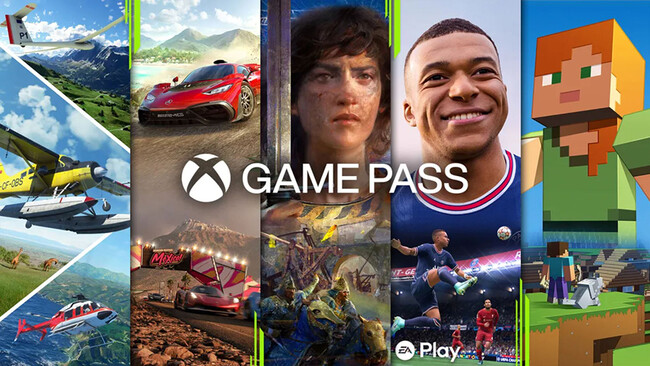 Todos los juegos de PC Game Pass
A continuación, encontrarás la selección completa de juegos disponibles en PC Game Pass. Iremos actualizando este artículo a medida que Microsoft implemente más entregas a lo largo de los próximos meses.
#
A
A Plague Tale: Requiem - Windows
A Short Hike
A Way Out (EA Play)
Age of Empires: Definitive Edition
Age of Empires II: Definitive Edition
Age of Empires III: Definitive Edition
Age of Empires IV: Edición Aniversario
Airborne Kingdom
Alice: Madness Returns (EA Play)
Amnesia: Collection
Amnesia: Rebirth
Amnesia: The Bunker
Among Us
Anthem (EA Play)
ANVIL: Vault Breaker (Game Preview)
Arcade Paradise
ARK: Ultimate Survivor Edition
Arx Fatalis
As Dusk Falls
Ashes of the Singularity: Escalation
Assassin's Creed Odyssey
Assassins's Creed Origins
ASTRONEER
Atomic Heart (Windows)
B
Back 4 Blood
Banjo-Kazooie: Baches y Cachivaches (Nube)
Banjo-Kazooie (Nube)
Banjo-Tooie (Nube)
Batman: Arkham Knight (Nube)
Battlefield 4 (EA Play)
Battlefield Bad Company 2 (EA Play)
Battlefield 1 Revolution (EA Play)
Battlefield 2042 (EA Play)
Battlefield Hardline (EA Play)
Battlefield V Year 2 Edition (EA Play)
BATTLETECH
Battletoads
Beacon Pines
Ben 10: Power Trip
BlazBlue: Cross Tag Battle Special Edition
Bleeding Edge
BLiNX: The Time Sweeper (Nube)
Bramble: The Mountain King
Broforce Forever
Broken Age
Burnout Paradise Remastered (EA Play)
C
Car Mechanic Simulator 2021
Cassette Beasts
Celeste
Chained Echoes
Chicory: A Colorful Tale
Chivalry 2
Cities: Skylines - Windows 10 Edition
Citizen Sleeper
Coffee Talk
Coffee Talk Episode 2: Hibiscus & Butterfly
Command & Conquer Remastered Collection (EA Play)
Common'hood
Conan Exiles
Contrast
Cooking Simulator Windows
Coral Island (Game Preview)
Costume Quest (Nube)
Crackdown 3
Cricket 22
Crimson Skies: High Road to Revenge (Nube)
Crusader Kings III
Crysis (EA Play)
Crysis 2 Maximum Edition (EA Play)
Crysis 3 (EA Play)
D
Darkest Dungeon
Day of the Tentacle Remastered
DayZ (Nube)
Dead by Daylight Windows
Dead Cells
Dead Space (2008) (EA Play)
Dead Space 2 (EA Play)
Dead Space 3 (EA Play)
Death's Door
DEATHLOOP
Deep Rock Galactic
Descenders
Despot's Game
Dicey Dungeons
DIRT 5 (EA Play)
Disc Room
Dishonored Definitive Edition
Dishonored: La muerte del Forastero
Dishonored 2
Disney Dreamlight Valley
Disneyland Adventures
DOOM (Nube)
DOOM (1993)
DOOM 3
DOOM 64
DOOM Eternal Standard Edition
DOOM 2 (Classic)
Dordogne
Dragon Age: Origins (EA Play)
Dragon Age 2 (EA Play)
Dragon Age: Inquisition (EA Play)
Dune: Spice Wars (Game Preview)
Dungeon Keeper (EA Play)
Dungeon Keeper 2 (EA Play)
Dyson Sphere Program (Game Preview)
E
Eastern Exorcist
Eastward
Edición Deluxe de Mass Effect: Andromeda
Edición Digital Deluxe Mass Effect 2
Edición Digital Deluxe Mass Effect 3 N7
Edición Premium de Battlefield 3
Edición Ultimate de Star Wars Battlefront
Eiyuden Chronicle: Rising
Escape Academy
Everspace 2 (Nube)
Eville
EXAPUNKS
Exoprimal
F
F.I.S.T.: Forged In Shadow Torch
F1 2021 (EA Play) (Nube)
F1 22 (EA Play)
Fable Anniversary (Nube)
Fable II (Nube)
Fable III (Nube)
Fallout
Fallout 2
Fallout 3
Fallout 4
Fallout 76
Fallout Tactics
Fallout: New Vegas
Far Cry 5
Farming Simulator 22
Fe
FIFA 22 (EA Play)
FIFA 23 (EA Play)
Figment 2: Creed Valley
Firewatch
Football Manager 2023
For Honor: Marching Fire Edition
Forager
Forza Horizon 4: Edición Estándar
Forza Horizon 5: Edición Estándar
Frog Detective
Frostpunk: Console Edition
Fuga: Melodies of Steel 2
Full Throttle Remastered
Fuzion Frenzy (Nube)
G
Galactic Civilizations III
Gang Beasts
Garden Story
Gears 5: Edición Juego del Año
Gears of War 2 (Nube)
Gears of War 3 (Nube)
Gears of War 4
Gears of War: Judgment (Nube)
Gears of War: Ultimate Edition
Gears Tactics
Generation Zero
Genesis Noir
Ghost Song
Ghostlore (Game Preview)
GhostWire: Tokyo
GoldenEye 007 (Nube)
Golf With Your Friends
Grand Theft Auto V (Nube)
GRID Legends (EA Play)
Grim Fandango Remastered
Gris
Grounded
Guilty Gear - Strive-
Gunfire Reborn
Gungrave G.O.R.E
H
Halo 2: Anniversary
Halo 3
Halo 3: ODST
Halo 4
Halo 5: Guardians (Nube)
Halo Infinite
Halo REACH
Halo Wars 2: Standard Edition
Halo Wars: Definitive Edition
Halo: Combat Evolved Anniversary
Halo Infinite (campaña)
Halo: la colección Jefe Maestro
Halo: Spartan Assault
Halo: Spartan Strike
Hardspace: Shipbreaker
Hellblade: Senua's Sacrifice
Hello Neighbor 2
Hi-Fi RUSH
High On Life
Hitman World of Assassination
Hollow Knight: Edición Corazón Vacío
Homestead Arcana
HOT WHEELS UNLEASHED - Game of the Year Edition
House Flipper
Human Fall Flat
Humankind
Hypnospace Outlaw
I
Immortals Fenyx Rising
Infinite Guitars
Injustice 2
Inkulinati (Game Preview)
INSIDE
Insurgency: Sandstorm
Iron Brigade
It Takes Two - Versión digital (EA Play)
J
Jade Empire: Edición Especial
Jetpac Refuelled (Nube)
JoJo's Bizarre Adventure: All-Star Battle R
Joy Ride Turbo (Nube)
Jurassic World Evolution 2
Just Cause 4: Reloaded
K
Kameo (Nube)
Kill It With Fire
Killer Instinct: Definitive Edition
L
La Patrulla Canina: Grand Prix
La Tierra Media: Sombras de Guerra
LAPIN (Game Preview)
Last Call BBS
League of Legends
Legends of Runeterra
LEGO Star Wars: La Saga Skywalker
Let's Build a Zoo
Lies of P
Limbo
Little Witch in the Woods (Game Preview)
Lonely Mountains: Downhill
Loop Hero
Loot River
Los Sims 3 Disco Iniciación
Los Sims 4 Edición EA Play (EA Play)
Lost in Random (EA Play)
M
Madden NFL 22 (EA Play)
Madden NFL 23 (EA Play)
Maquette
Mass Effect
Mass Effect Legendary Edition (EA Play)
Mass Effect Andromeda (EA Play) (Nube)
Massive Chalice (Nube)
McPixel 3
MechWarrior 5: Mercenaries
Medal of Honor Allied Assault War Chest (EA Play)
Medal of Honor Airborne (EA Play)
Medieval Dynasty
Merge And Blade
Mi Amiga, Peppa Pig
Microsoft Flight Simulator Standard 40th Anniversary Edition
Microsoft Solitaire Collection
Minecraft
Minecraft Dungeons
Minecraft Legends
Minecraft Preview
Mirror's Edge (EA Play)
Mirror's Edge Catalyst (EA Play)
MLB The Show 23 (Nube)
Monster Hunter Rise
Monster Sanctuary
Monster Train
Moonlighter
Moonscars
Mortal Kombat 11
MotoGP 22
Mount & Blade II: Bannerlord
My Friend Pedro
My Time at Portia
N
NARAKA: BLADEPOINT - Edición Standard
Need for Speed Edición Deluxe
Need for Speed Heat Deluxe Edition (EA Play)
Need for Speed Hot Pursuit Remastered (EA Play)
Need for Speed Most Wanted (EA Play)
Need for Speed Payback - Deluxe Edition (EA Play)
Need for Speed Rivals: Edición Completa
Need for Speed Unbound (EA Play)
Neon Abyss
New Super Lucky's Tale
Ni no Kuni La ira de la Bruja Blanca Remastered
Ni no Kuni II: Revenant Kingdom – The Prince's Edition
NINJA GAIDEN 3: Razor's Edge
NINJA GAIDEN Σ
NINJA GAIDEN Σ2
NINJA GAIDEN: Master Collection
No Man's Sky
NORCO
O
Offworld Trading Company
Opus Magnum
OPUS: Echo of Starsong - Full Bloom Edition
Ori and the Blind Forest: Definitive Edition
Ori and the Will of the Wisps
Outriders
Overcooked! 2
OVERWHELM
P
PAC-MAN MUSEUM+
Paw Patrol La poderosa patrulla CANINA salva Bahía Aventura
Peggle (EA Play)
Peggle 2 (EA Play)
Pentiment
Perfect Dark (Nube)
Perfect Dark Zero (Nube)
Persona 3 Portable
Persona 4 Golden
Persona 5 Royal
Phantom Abyss (Game Preview)
Phoenix Point
Pikuniku
Pillars of Eternity II: Deadfire - Ultimate Edition
Pillars of Eternity: Hero Edition
Planet of Lana
Plants vs. Zombies Edición Juego del Año
Plants vs. Zombies Garden Warfare (EA Play)
Plants vs. Zombies Garden Warfare 2: Edición Deluxe (EA Play)
Plants vs. Zombies: La Batalla de Neighborville edición deluxe (EA Play)
Populous (EA Play)
Populous II: Trials of the Olympian Gods (EA Play)
Potion Craft: Alchemist Simulator
PowerWash Simulator
Prey
Prodeus
Psychonauts
Psychonauts 2
Q
Quake
Quake 4
Quake II
Quake III Arena
R
RAGE (Nube)
RAGE 2
Railway Empire 2
Rainbow Billy: The Curse of the Leviathan
Ravenlok
ReCore
Redfall
RESEARCH and DESTROY
Return to Castle Wolfenstein
Return to Monkey Island
Rise of Nations: Extended Edition
Roboquest (Versión preliminar)
Rocket Arena (EA Play)
Rubber Bandits
Rune Factory 4 Special
RUSH: A Disney Pixar Adventure
S
Scorn
SD Gundam Battle Alliance
Sea of Solitude (EA Play)
Sea of Stars
Sea of Thieves
Serious Sam: Siberian Mayhem
Shadow Warrior 3: Definitive Edition
Shadowrun Returns (Nube)
Shadowrun: Dragonfall - Director's Cut (Nube)
Shadowrun: Hong Kong - Extended Edition (Nube)
Shadowrun Trilogy
Shredders
SIGNALIS
SimCity 2000 Special Edition (EA Play)
SimCity 4 Deluxe Edition (EA Play)
SimCity: Complete Edition
Sins of a Solar Empire: Rebellion
Skate 3 (EA Play) (Nube)
skate. (2007) (EA Play) (Nube)
Splay The Spire
Slayers X: Terminal Aftermath: Vengance of the Slayer
Slime Rancher 2
Sniper Elite 5
SnowRunner
Soccer Story
Solasta: Crown of the Magister
SOMA
Solar Ash
Somerville
Soul Hackers 2
Spacelines from the Far Out
SpiderHeck
SPORE (EA Play)
Stacking (Nube)
Star Wars Jedi: Fallen Order (EA Play)
Star Wars Battlefront II (EA Play)
Star Wars Squadrons (EA Play)
Starbound
Stardew Valley
Starfield
State of Decay 2: Juggernaut Edition
Stellaris
Story of Seasons: Friends of Mineral Town
Stranded Deep
Sunset Overdrive
Super Lucky's Tale
Super Mega Baseball 3 (EA Play)
Superliminal
Sword and Fairy: Together Forever
T
Teamfight Tactics
Techtonica
Teenage Mutant Ninja Turtles: Shredder's Revenge
Tell Me Why: Capítulo 1-3
Terraria (Nube)
The Bard's Tale ARPG: Remastered and Resnarkled
The Bard's Tale IV: Director's Cut
The Bard's Tale Trilogy
The Big Con
The Bookwalker
The Cave (Nube)
The Elder Scrolls Adventures: Redguard
The Elder Scrolls III: Morrowind
The Elder Scrolls IV: Oblivion Game of the Year Edition
The Elder Scrolls V: Skyrim Special Edition
The Elder Scrolls Online (Nube)
The Evil Within
The Evil Within 2
The Gunk
The Last Case of Benedict Fox
The Legend of Tianding
The Outer Worlds
The Saboteur (EA Play)
The Texas Chain Saw Massacre
The Walking Dead: A New Frontier - The Complete Season (Episodes 1-5) (Nube)
The Walking Dead: La temporada final
The Walking Dead: Michonne - The Complete Season (Nube)
The Walking Dead: Season 1
The Walking Dead: Season Two
The Walking Dead: The Complete First Season (Nube)
The Wandering Village
The Yakuza Remastered Collection
theHunter: Call of the Wild
This War of Mine: Final Cut
Titanfall 2 (EA Play)
Toem
Tom Clancy's Rainbow Six Siege - Deluxe Edition
Tom Clancy's Ghost Recon Wildlands - Standard Edition
Torment: Tides of Numenera
Totally Accurate Battle Simulator
Totally Reliable Delivery Service
Townscaper
Trailmakers
Trek to Yomi
TUNIC
Turbo Gold Racing (Game Preview)
Turnip Boy Commits Tax Evasion
U
Unpacking
Unravel (EA Play)
Unravel Two (EA Play)
V
Valheim (Versión preliminar del juego)
Valorant
Vampire Survivors
Venba
Viva Piñata (Nube)
Viva Piñata: TIP (Nube)
W
Warhammer 40.000: Darktide
Wasteland 2: Director's Cut
Wasteland 3
Wasteland Remastered
Watch Dogs 2
Weird West
Wo Long: Fallen Dynasty
Wolfenstein 3D
Wolfeinstein: The New Order
Wolfenstein: The Old Blood
Wolfenstein: Youngblood
Wolfenstein II: Standard Edition
Wreckfest
Y
Yakuza 0
Yakuza 3 Remastered
Yakuza 4 Remastered
Yakuza 5 Remastered
Yakuza 6: The Song of Life
Yakuza Kiwami
Yakuza Kiwami 2
Yakuza: Like a Dragon
You Suck at Parking
Z
Zombie Army 4: Dead War
Zoo Tycoon: Ultimate Animal Collection
En 3DJuegos | Los 20 mejores juegos que llegan a Xbox Game Pass en 2023.
En 3DJuegos | Cómo conseguir Xbox Game Pass Ultimate gratis y para toda la vida: Es más fácil de lo que parece.